Yea, I said it! :) 28 days til Christmas day. How is your shopping/decorating going? I am going to make most of my gifts this year. Lots of Scrapbooking.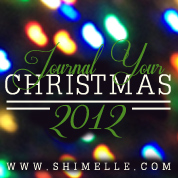 This is my goal for This holiday season to enjoy it as much as I can spend it with family and friends and document the whole month long with blog posts lots of pictures and journal all month long!
Enjoy your Holiday Season and bring on the snow!
Tina